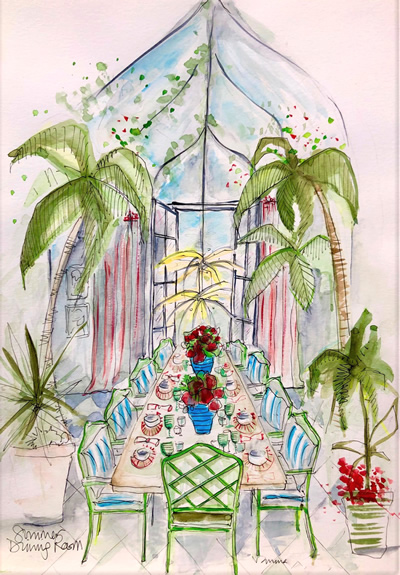 The process of designing a room can start with an illustration, and Vanessa often draws the interiors of rooms for clients to encapsulate her vision for style and colour.
These illustrations are not only visual aids for interior design but also treasured drawings that can be framed and hung.
Vanessa can also be commissioned to draw interiors of existing rooms, capturing the feel of a much-loved space for posterity. Illustrations will incorporate the things that make that room so special - family heirlooms, faded fabrics, even a favourite pet. Children's bedrooms are a popular choice before teenagers repaint the walls in black or cover the wallpaper with posters of bands!
Or clients can commission a fantasy room to be created into a wallpaper – a library wallpaper for a downstairs loo, a conservatory wallpaper for an office.
''I love the idea of wrapping a room within a room, cosying up a small space or adding something unique to a project. In essence I create a surprise room!'
For illustration enquiries please contact This email address is being protected from spambots. You need JavaScript enabled to view it..