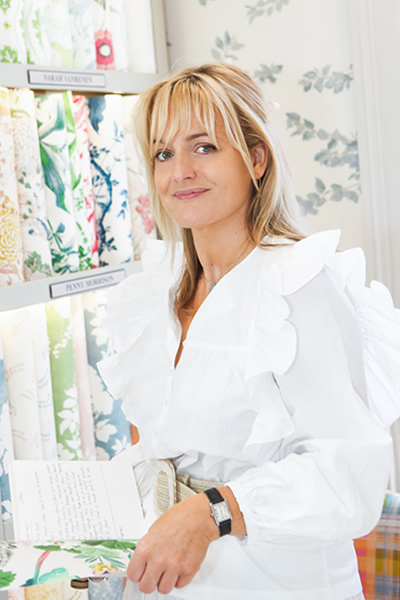 In 2014 interior designers and colourists Vanessa Konig and Jasper Galloway, from international interiors company Konig Design, launched Konig Colours, a range of 101 eco-friendly paints.
'We were always looking for various colours and could never quite find the right one. The solution,' explains Vanessa, 'was to create our own range of colours we love.'
In 2018 Jasper moved to the artists Mecca of Paris to follow his career as an artist, leaving the reigns of Konig Colours in the creative hands of Vanessa Konig.
Tell us about your paint
Konig Colours offers a brilliant, diverse and beautiful paint range that is available both to decorators and the paint-loving, decorating-mad British public.
And as well as introducing new colours each year, Konig Colours also offers a bespoke service developing paint colours for individual clients looking to match specific fabrics or create a new colour of their own.
Eco-friendly, our highly-engineered paint is 100% water based, with very low VOC's and virtually no odour. Sustainability is vital, so having a paint that has great coverage and is long lasting is important to us. This in turn reduces labour costs and materials use; all our paint is made in the UK too. The paint also has fantastic opacity and durability you will get a hard-wearing paint that goes on beautifully with the minimum no of coats required.
What's new in 2019?
We are launching some new colours for our collaboration with Mrs & Mr Bateman at the end of April and we launch our first commissioned wall panel, which is a new service we will be able to offer. There will also be some new Konig Colours launched later in the year.
So, more than your beautiful paint?
Yes to compliment the paint range, we are launching bespoke wall panels, which will incorporate Vanessa's interior illustrations. These panels can be personalized for specific rooms and can sized to fit any wall or space. They can be totally tailored and will be a great solution for cosying up small spaces. For examples, bathroom or dark small corridors.
A fun addition to the paint range.
Konig Colours are also working with inspiring designers and makers in the UK to create some fun surprises and have some 'colourful collaborations!' up their sleeve!
Where will your paint and illustrated wall panels be sold?
All the paint colours will be available online and through selected interior designer showrooms. Until we bring out a standard ranges of illustrated wall panels, these will be available bespoke through Konig directly.