New Colours to Love!
This spring, Konig Colours and Mrs & Mr Bateman have collaborated to develop four beautiful new paint colours.
These colours are being launched in London on 26th April 2019 at I AM BATEMAN: The Relations.
I AM BATEMAN: The Relations
This April 2019 sees the Mrs & Mr Bateman creators launch immersive art, fashion and interiors installation I AM BATEMAN: The Relations. The installation journeys through the fantastical world of Mrs & Mr Bateman; comprised of seven vignettes depicting the individual stories and peculiarities of various relations. As the visitor travels through the installation, they are given insight into each persona through literal & abstract intimations; their interpretation allowing them to personally create the story that unfolds. The visitor becomes the voyeur.
Our collaboration
'Working with the creators on the I AM BATEMAN story, I could immediately sense a definitive story of colour running through their mutual creativity. The hero colour 'Mrs Bateman' was inspired by a vintage silk dress. The colour is a deep blush, an old-fashioned silk pink reflective off a bygone era. A pink that has lived a life of Gauloise and Chanel no.5, but is still as fresh and lovely as ever. The Mr Bateman purple is her partner in crime.
The greens were mixed specially for The Cabinet of Curiosities, a central part of the show. The colours are a modern take of green shades - a beautiful deep green contrasted with a brighter vivid highlight.
It was inspiring to mix colours for such a wonderfully vibrant character base; which will inspire modernists and traditionalists a like. A celebration of character and individuality; in a world where everyone wants to be like someone else. Now that's inspiring.' Vanessa Konig 2019.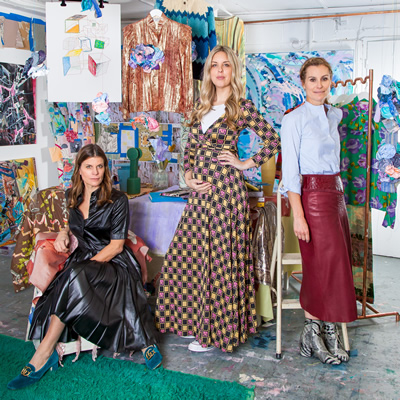 The Mrs & Mr Bateman show, I AM BATEMAN: The Relations is on at 2 Blenheim Crescent, London W11 1NN 26 April - 11 May 2019
If you can't make the show, you can see the colours by ordering a free hand painted Mrs & Mr Bateman colour card today. Email This email address is being protected from spambots. You need JavaScript enabled to view it. with your name and address.
Or order a 60ml sample pot of the Mrs & Mr Bateman colours through the 'PAINT' section of this site.